Despite the challenges that 2020 threw our way, the AVerMedia team wanted to share some of our top highlights and accomplishments throughout the year. Here's a look back on the biggest plays we've made thus far—and here's to unlocking even greater achievements!
---
A bolt from the blue…
Teased way back in 2019 (feels like a millennia ago, doesn't it?) during Computex Taipei, the Live Gamer BOLT finally made its debut in April—obviously, sprinkled with loads of sneak peek tidbits and exciting trailers along the way. Tweaked slightly in design and in function to make sure everyone gets the most out of its Thunderbolt capabilities, this was described in several reviews to be a top-notch, creme-de-la-creme kind of capture card that was bound to please.
For the curious, here's where you can check out some reviews and more on the BOLT:
---
---
We're worldwide.
Happening right around the time of AVerMedia's 30th Anniversary, you could say we were celebrating in a pretty big way. In July, we officially announced opening partnership applications worldwide! Going global has been a long-time goal for AVerMedia as we strive to grow alongside a large and diverse group of content creators that can't wait to show their passions with the world.
If you want more information and want to stay up to date on when our applications will open again, be sure to follow us on Twitter, or sign up for our emails here.
---
The card you didn't know you needed.
If you ever need evidence that we always feedback into account…this card is it! A capture card with two HDMI inputs for one PCI-e slot to save space for any and all streamers was pretty much a dream come true, so when we launched this in August, we got a lot of reactions along the lines of, "Where was this when I first started streaming?"
Well received by an overwhelming majority, this card was actually sold out on our store within the first few hours of its launch! As a game-changer that's perfect for almost all streamers looking to do more with less clutter, the Live Gamer DUO was designed to make creation even easier (while adding a little extra RGB on the side).
Browse some reviews, in case you missed out:
Create & Connect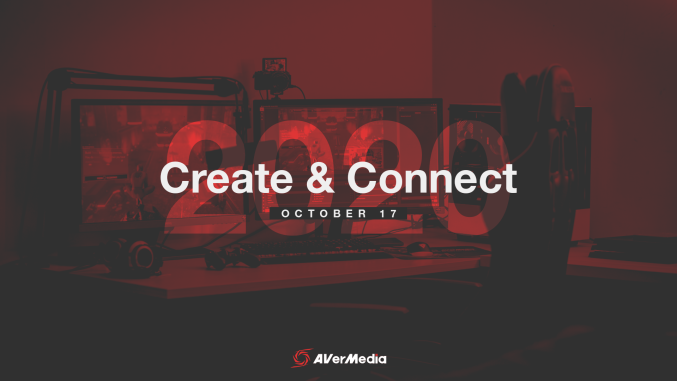 In October, we organized and hosted a 24-hour livestream full of games, partners, and staff shenanigans on Twitch for the first time ever, named Create and Connect. With a fun mixture of games, guest panels, and informative Q&A sessions, this 24-hour livestream was a great opportunity for others to learn a bit about our products, our partners, and how they learn and grow as content creators. Thanks again to all of our partners who participated, either by streaming through the lat night hours, or by joining us live on our channel to share some of your insight!
Despite the difficulties of working from home and figuring out how to work out the kinks for a livestream, the AVerMedia team managed to coordinate a huge event that ended with a big teaser of our next surprise…
---
*drumroll please…*
As a fun fact, the entire AVerMedia team had a seriously hard time containing our excitement about the Live Streamer CAM 513. If you missed our Create and Connect event on Twitch, we dropped several (obvious) hints and couldn't hold back our grins when we saw most people picking up on it.
Officially announced in October, the Live Streamer CAM513 provided a high quality alternative to DSLRs for livestreamers and creators looking to upgrade their footage without having to fully invest in a high end camera. Paired with our CamEngine software, additional functions such as AI-framing, ePTZ, and noise cancellation makes the Live Streamer CAM513 a hassle-free webcam to setup and use right away.
Read more about the Live Streamer CAM 513 and see some reviews here:
---
Last but not least…
While maybe not one of the biggest pieces of news in 2020, our blog probably still deserves an honorary mention here. Created in May, the AVerMedia team pushed for having a place that could house both informative and fun items here and there. When it felt difficult to cram all of our product information on the official site and on our social media, a blog felt like the perfect solution to cover all of the possibilities. Having gotten the green light to create content on the blog has allowed the team to expand on topics that resonate with experienced creators or newcomers who are looking into streaming, and we're eager to share more from our staff and our partners through the upcoming year.